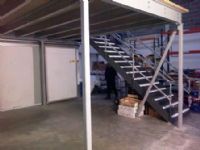 Mezzanine floors building regulations
posted by:

Richard Haynes
Mezzanine floors require building regulations approval and are covered by a number of the different parts of the UK building regulations. For instance mezzanine floors building regulations fall under part "A" of the UK building regulations covering structural issues and they will require the calculations of a structural engineer to satisfy the building inspector of the mezzanine floors structural integrity. You will also need to consider part "B" fire safety so there may be the need for additional call points and the consideration of travel distances. With part "K" covering staircases also often playing a critical role in the designs of mezzanine floors. If you are having areas above or below the mezzanine fitted out as office mezzanines or for production or storage you will fall under additional regulations are additional items and measures may be required to meet the mezzanine floor building regulations.
The key is to provide a suitable design that negates the needs for unnecessary and costly additions to the mezzanine floor design while still meeting the required regulations and keeping your team and visitors safe.
Here at 2h Storage unlike many of our competitors we look after this aspect of the build on your behalf saving the need for additional and costly professional fees.