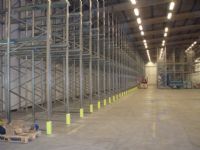 Drive In pallet racking Hartlepool
posted by:

Richard Haynes
A recent review of one of our Hartlepool based customers storage requirements helped establish the need for increased storage capacity. For this Hartlepool based company consideration was given to the type of product stored as well as the type of pallet racking system required. Working in partnership with an independent distributor allowed for selection of the most suitable pallet racking storage system based solely on the companies requirements.
Detailed site surveys were undertaken including a floor level mapping exercise and the pre installation of a test lane ensure maximum storage levels were achieved safely. Drive In pallet racking is an ideal way to increase your number of pallets stored. Drive In pallet racking stores the pallets on a first in last out basis, which doesn't work for all products but when utilised can increase storage capacities by 60%.
When Drive In pallet racking can not be used it is possible that Drive Through pallet racking may provide a more suitable pallet racking solution.