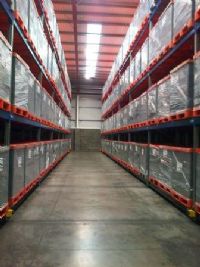 Mobile warehouse pallet racking
posted by:

Richard Haynes
For those who have limited space or have to store in chillers or cold stores mobile warehouse pallet racking can be a worthwhile investment.
The various systems on the market are usually made up from conventional warehouse APR pallet racking components or are of a similar design mounted on bases. These bases are then driven with a series of electrical motors allowing for one ample aisle and saving up to eight percent warehouse space. If you consider the running costs of cold storage this can provide a positive payback in a limited time.
Here at 2h Storage we have work with a wide range of clients in various industries and look after their requirements for all types of racking from APR adjustable pallet racking through to mobile racking, drive in pallet racking, pallet live and pushback racking.