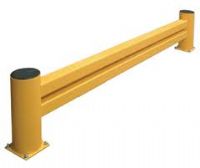 Pallet racking corner protection
posted by:

Richard Haynes
Pallet racking corner protection
Do you find that your pallet racking uprights are suffering damage?
Here at 2h Storage we have a wide range of pallet racking protectors, including upright protectors, pallet racking corner protectors and end barriers.
Pallet racking repairs can be expensive and some parts hard to find so pallet racking protection systems offer a good investment. We offer a wide range of products from tubular rack end barriers through to individual polymer pallet racking upright protection guards. Or you could protect your racking corners with double rail end barriers or bollards. We carry a wide range of stock that includes :
Floor Mounted Column Guards (FMCG)
Ballistic grade polymer protectors
Polyethylene column guards
So call 2h Storage today and save money on expensive pallet racking repairs with our wide range of racking and racking corner protection.