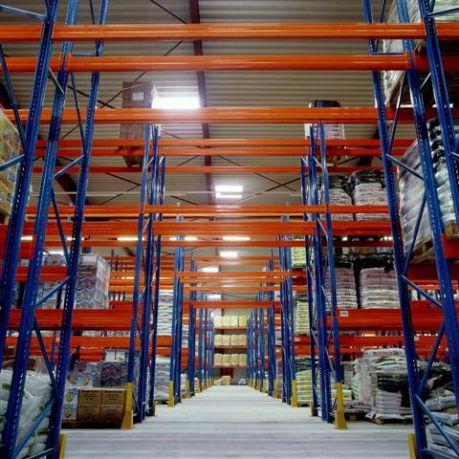 Pallet Racking Terminology
posted by:

Richard Haynes
When buying new and used pallet racking there are a few key phases that you should understand. Below is all the pallet racking terminology explained:
The storage module between the pallet racking uprights is referred to as a bay so a single bay of pallet racking consist of the two upright frames at either end of the pallet racking beams with the beams in the middle.
These are a series of the module bays so for instance you may have one run made up of three bays of pallet racking. Remember the number of pallet racking frames in a run is always one more than the number of bays. So a three bay run of pallet racking will have four frames.
Single sided run of pallet racking
A single sided run of pallet racking often called a single entry run and is accessed from one side, you should never have a single run of pallet racking picked or loaded from both sides. These are often either placed against and wall or have anti collapse mesh to one side.
Double sided run of pallet racking
These are two runs back to back often called double entry or back to back runs of pallet racking and should be fitted with row spacers to allow for clearance at the back of the pallets on each run these are usually 200mm long and the height, loadings and other variables will affect the type and number in the height of each pair of back to back pallet racking frames.
Levels in the pallet racking bays
The number of levels is simply the number of storage levels but a level may describe a number of items it will at least apply to a pair of pallet racking beams. It may also cover items like timber or mesh decks, pallet support bars, drum chocks, stepped beams, chipboard, shelf panels fork spacers or pallet foot supports.
Pallet racking aisles are the aisles that the forklift truck or other mechanical handerling equipment will used to access the area between pallet runs.
Gangways for pallet racking
Pallet racking gangways are the space for movement but these are areas that do not give access to the pallet racking directly for picking or loading.
There are other terms like transfer aisles and terms used to describe the pallet racking components and accessories. Information on these can be found on other pages of this website but for technical and design advice it is important that you speak to an experienced pallet racking supplier, designer or installer. Our pallet racking design team would be pleased to assist with any questions on 01765 640 160.