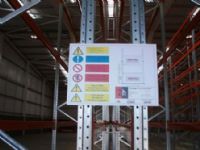 Rack end Load Notices and Pallet racking safety inspections
posted by:

Richard Haynes
Do you need rack end load notices and pallet racking safety inspections? Or perhaps you need a pallet racking safety inspection to make sure your racking is safe and free of potentially hazardous damage or defects.
Here at 2h Storage we can supply all your pallet racking requirements from pallet racking design, supply and installation of both new and used pallet racking. We can inspect your pallet racking and provide you with an easy to understand and comprehensive pallet racking safety report. This will detail any missing rack end load notices and meet the standards of the most stringent health and safety professionals.
We provide a full risk and method statement for our pallet racking safety inspections and provide an easy to follow but comprehensive electronic report within 48hrs of attending site.
Health and Safety in the work place is of paramount importance to your business. An Annual Rack Safety Inspection will help you ensure your warehouse is a safe place in which to work.
Under the current Health and Safety at Work Act 1974 and the Provision and Use of Work Equipment Regulations 5 & 6 1998 ALL
Racks and Shelving are required by law to have regular inspections.
Regular Rack Inspections help your business:
Comply with Health & Safety Regulations
Investigate the causes of damage and improved operating methods
Identify essential repairs
Reduce damage and maintenance costs in the future.
Documented inspections and maintenance of your 'Work Equipment'
Improve internal inspection and reporting procedures
So for all your pallet racking safety and pallet racking inspection requirements call our warehouse safety team here in Yorkshire on 01937 585 057.