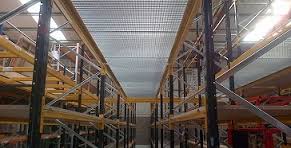 Dispatch shelving for cardboard boxes
posted by:

Richard Haynes
Looking for dispatch shelving for cardboard boxes? Using a shelving system does not only mean you can maximise your space in the dispatch area it also allows you to use specific shelves for dispatch locations.
Certain bays or shelf levels can be reserved for specific locations or dispatch pickups by location, customer or time slots. This can improve the accuracy of your products dispatched and make your dispatch operations faster and more cost effect.
Depending on the type, weight, budget and speed of pick rates we can supply a wide variety of shelving and pallet racking options to help you get your warehouse running to maximum efficiency. We have experience in assisting a wide range of customers from complex multi-product semi automated dispatch and picking systems though to a few bays of cost effective shelving.
So whatever you're shelving needs we offer a full design and technical service with delivery and installation options to suit most budgets from a few hundred pounds to hundreds of thousands pound installations.