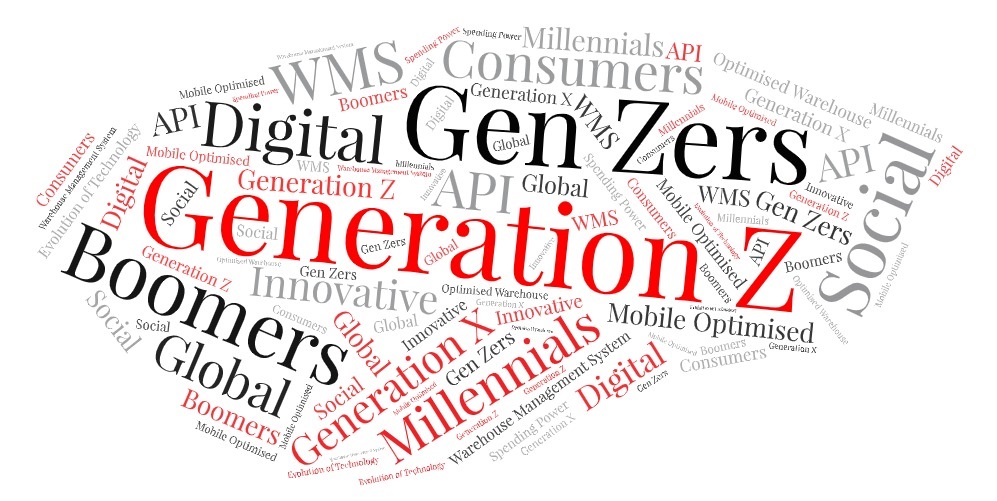 Preparing for the Spending Power of Generation Z Consumers
Boomers, Generation X,  Millennials – names constantly thrown around to the point where it's hard to tell which age group falls into which category. Everyone has a label nowadays, but for online businesses it is the latest and youngest generation – those known as Generation Z – who represent the biggest challenge in the coming years.
Shopping is now easier than at any point in history, made possible by the evolution of technology over the past 10-15 years. This has opened the door to a huge influx of young, savvy shoppers that will allow businesses who are ready to make the most of this cultural and economic change to profit, as long as they plan accordingly.
It is estimated that Gen Zers account for 2.5 billion people on Earth (and the largest single generational group), which accounts for about one-third of the entire planet's population. They have never known a world without the internet and smartphones, which means their expectations of choice, cost, convenience and control is unlike any generation that has come before.
Within the next year they are set to become the most powerful spending force alive, with some experts estimating they will account for 40% of all consumer spending. This means ecommerce businesses and storage facilities will have to be prepared in order to survive.
Omnichannel fulfilment
With Generation Z shoppers set to order more via their smartphones than anyone else in history, ecommerce businesses need to gear up to respond accordingly. However, the high street shopping experience is far from dead, as Gen Zers will still visit shopping centres, collect online orders in-store and receive same-day deliveries at their places of work and at home. Regardless of how and where items are purchased, the expectation of the service remains just the same. That means being able to respond and meet these expectations in every way and through every sales channel available in order to meet demand and grow.
Mobile optimised sites
Ensuring your website is optimised for mobile ordering is a must in 2019 and beyond. This means making them easy to navigate and load on modern smartphones to keep customers on-site and flowing through to complete their sales. In many cases it comes down to a matter of a few seconds making the difference between retaining a customer on-site and losing them to a competitor if the site is unresponsive or too slow. In order to maximise success, warehouses need to install a robust Warehouse Management System (WMS) with API and shopping cart integrations that will allow them to achieve customer expectations.
Product control
From the moment a customer makes an enquiry about the availability of a product, until the moment it is shipped, ecommerce companies need to have full visibility and control over their items. This can be supported through the use of inventory reports, warehouse event notifications via email and a permission-based web portal for consumers. Being able to follow a purchase from the storage rack in the warehouse, through to the delivery vehicles and on to the doorstep of the customer, will ensure you remain one-step ahead of competitors and towards continued growth.
Enhanced customer experience
As we mentioned earlier, Gen Zers have extremely high demands and expectations because they have never lived in a world without the choice available to them today. That means customer service levels have to be at incredibly high levels at all times. Right across the board the help, assistance and attentiveness paid towards their needs will make the difference. This could include things such as:
Chatbots: Automated, online customer service portals that can provide quick answers to common queries.
Expert advice: Round-the-clock access to 'live' customer support to deal with more challenging customer enquiries.
Easy-to-read FAQs: Younger customers want answers immediately and the FAQ page should be able to provide them.
Data protection: Stored purchase data related to payment and address details that aren't resold and able to cut down time spent completing order forms.
Product returns
A big part of choice in today's consumerist world is making the return of products easy and straightforward. While the concept of returns are nothing new, with so much choice available to Generation Z consumers, they also expect to be able to return the item without hassle. It's easier to buy multiple versions of the same item, and in doing so, Gen Zers will also want to make their choice in person before sending back the products that do not meet their needs. As a result, returns must be an established part of your fulfilment system and not simply treated as occasional one-offs. This should make the return of items straightforward enough to ensure you become a reliable brand your customers can rely on.