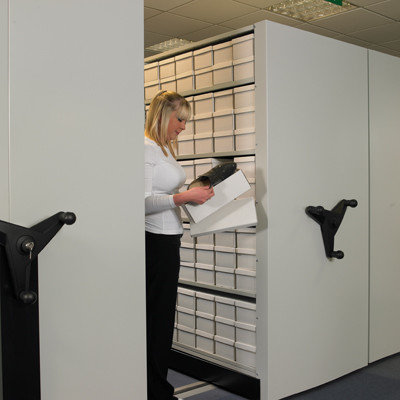 Mobile shelving, also known as compact shelving or high-density shelving, is a type of shelving system that maximizes storage space by eliminating the need for fixed aisles between shelves. Instead, mobile shelving units are mounted on tracks or rails, allowing them to be moved back and forth to create an aisle where needed.
Mobile shelving can be an effective solution for businesses that need to store a large number of items in a limited space. By eliminating the need for fixed aisles, mobile shelving can reduce the amount of floor space needed for storage while still providing easy access to items.
Mobile shelving comes in a wide ranges of sizes and colors. Designed to fit in a particular space or store a particular number and size of files or objects. This type of storage is very adaptable, whether you're looking for ways to store papers and documents or heavier and bulkier items that need deeper or more substantial structures. They come with either push-along, cranked drive operation, or a powered electrical motor.
Ideal for a wide range of applications. Often used in laboratories, offices, and storage rooms of museums. Also, they can be used for other specialist items or equipment. We can ever have your corporate logo or a picture added to the shelving to create a design statement for your working environment.
We not only offer a full design and installation service for your shelving system but we also provide full after-sales care. This means if you choose to relocate your mobile shelving or move to another facility, we can take it down. package, transport, and re-install your mobile shelving.
Rolling storage systems can create up to 100% more storage capacity for your filing, archiving, and product needs.
For a demonstration of this type of mobile shelving system visit we can arrange a site visit.

Contact us on 01937 585057 for more information.