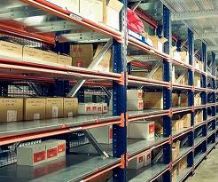 Industrial heavy duty Longspan shelving
posted by:

Richard Haynes
Longspan shelving is a popular strong and heavy duty shelving system with adjustable levels, which can be finished in chipboard or galvanised steel insert panels. This system looks a lot like and is often described as mini pallet racking as it uses similar looking frames and beams.

There are varying heights of frames from 1200mm to 4000mm with the option to clad end frames with mesh or solid panels or leave as open frames. With Longspan beam lengths of 1050, 1200, 1350, 1500, 1650, 1800, 1950, 2100, 2250, 2400, 2550, 2700, 2850, 3000 with the 2400 and 2700mm being some of the more popular. These varying fame heights and beam lengths makes Longspan shelving very flexible with bespoke solutions available from standard parts meaning that the product can be tailored to runs and shelf lengths to suit your needs and building without the cost of bespoke items.

Here at 2h Storage we want to make sure that you get the best possible shelving solution for the most cost effective price. Being one of the Norths leading supplier of pallet racking and Longspan shelving allows us to negotiate the best discount prices from manufactures and pass these saving on to you.

If you need Longspan shelving for your facility call 2h Storage today and let us arrange to visit site for a FREE survey and measure making sure you get the best products and Longspan shelving to suit your needs and budget.