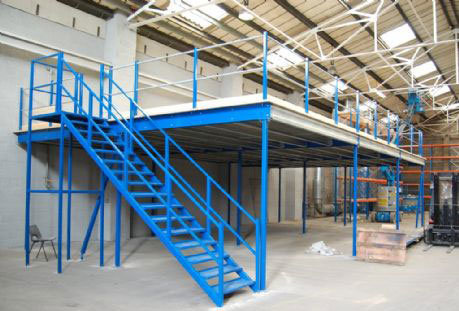 How much does a mezzanine floor cost?
posted by:

Richard Haynes
The benefits of mezzanine flooring are space and cost.  With a mezzanine floor installation you can potentially double your existing work space without having to move to additional premises.
How much does a warehouse mezzanine floor cost per square meter or square foot?
Mezzanine floor costs are similar to building costs per square meter in that although people do use square meterage costs for provisional or budgets prices they do vary dramatically.  The cost per square foot to build a mezzanine will range in price.  On average the cost would be around £75 to £120 per square meter.
There are many things that affect the price of a mezzanine floors with size and specification being the obvious. The finished floor height often called the mezzanine FFL finished floor level will affect the cost and square meterage price as will the CUF or clear underfloor height.
Weight Loadings
Often overlooked by people when looking at warehouse mezzanine floor cost is the weight loadings.   You may get a quote for a low rated mezzanine suitable for light storage only.  If you add people working on the mezzanine using pallet trucks and add shelving or racking for mezzanine floors, the loading's may need to be upgraded affecting the cost. It is important to calculate how much weight your mezzanine floor needs to safely hold.
Design Grids
Another item that is often overlooked is the GRID this is the structural layout of the mezzanine floor and dependent on the structural loading's, structural calculations and structural design grids will vary. This impacts the number and positions of the columns and these can affect the usefulness of the area under the mezzanine floor.
The type, length and specification of handrail including kick boarding and knee rails can dramatically affect the cost and look of a mezzanine floor. The deck finish is another consideration.  If it is simply left as chipboard or requires a covering of chequer plate or polyfloor, this will again increase the cost as will items like pallet gates number, size and specification.
Building Regulations
Building regulations compliance can have a big effect on prices with the addition of fire rating to columns and fire protection to the underside of the mezzanine floors. The number and type of staircases will of course have a large impact on prices. The specification of mezzanine floor staircases has changed in recent years so make sure that your mezzanine floor suppliers are fitting the correct type and number of staircases to meet the current UK building regulations.
If you would like any further advice or a survey so we can get your a warehouse mezzanine floor cost, call our design team here in Yorkshire on 01937 585057.