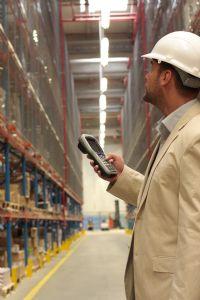 Pallet Racking Inspections for Yorkshire and the North East
Health and Safety in your workplace are of paramount importance to the operation of your business. An Annual Rack Safety Inspection forms part of your safety at work strategy. All Work Equipment must comply with both the Health & Safety at Work Act 1974 and PUWER – the Provision and Use of Work Equipment Regulations 1998.
Regular inspections of your storage equipment will help you ensure your warehouse is a safe place in which to work.  A 2h Rack Safety Inspection is carried out by the Storage Equipment Manufacturers Association (SEMA) Guideline No. 6 – Guide to the Conduct of Pallet Racking and Shelving Surveys. The frequency of your inspections depends on a wide variety of factors that are particular to your site, but the first inspection is normally carried out within 6 months of the installation becoming operational and thereafter at a maximum of 12-month intervals, depending on the amount of damage sustained.
Regular Rack Inspections help your business:
Comply with the Health & Safety at Work Act 1974
Comply with Work Equipment Regulations 5 & 6 1998
Investigate the causes of damage and improved operating methods
Identify essential repairs
Reduce damage and therefore maintenance costs in the future
Document inspections and maintenance of your work equipment
2h Storage Solutions Ltd is proud to offer a comprehensive Rack Safety Inspection service. Your inspection will be completed by one of our team of trained and approved Inspectors.
The Rack Safety Inspection documents will be made available to you on the same day allowing you to make immediate safety changes as required. Your Rack Safety Inspection documents will also provide a history for Health & Safety Inspectors and Insurance Companies.
To enquire about our Rack Safety Program simply complete your details using the form below and we'll get in touch with you. Ensure you are operating on the right side of the law.
We now offer national coverage for warehouse pallet racking inspections, with one supplier to inspect your sites all over the UK mainland!
Do you need warehouse pallet racking rack end load notices?
Looking for a cost-effective solution to warehouse safety?
Our inspectors will also recommend cost-saving and damage-management products and systems to help minimize the damage to your warehouse pallet racking. These recommendations alone could save your business thousands of pounds of warehouse pallet racking damage and repairs.
We will look at areas of high damage and can advise on changes to pallet racking layouts and pallet racking design to keep damage to a minimum. We can help you select the most cost-effective pallet racking protection from pallet racking end barriers, upright protection, corner guards, mesh, or solid partitions.