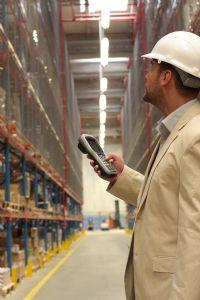 Pallet Racking Inspections for Yorkshire and the North East
Under the Provision and Use of Work Equipment Regulations 1998 (PUWER), pallet racking is classed as work equipment so therefore subject to inspection. This assessment is known as a warehouse racking inspection. Pallet racking inspections are a crucial component of your overall risk assessment and should be conducted at least once a year.
During a warehouse racking inspection, our team of SEMA Approved Rack Inspectors (SARI) thoroughly examines each element of your racking system. They utilize a traffic light system to categorize the condition of each element, assigning a ranking of Red for high risk, Amber for medium risk, and Green for low risk.
By conducting these inspections, we ensure compliance with HSE racking legislative requirements and provide you with a comprehensive review of the safety status of your racking system. This process helps identify any potential risks, enabling you to take appropriate measures to mitigate them and maintain a safe working environment.
Regular Rack Inspections help your business:
Compliance with the Health & Safety at Work Act 1974: Our inspections ensure that your pallet racking system meets the required safety standards, keeping you in line with legal obligations and regulations.
Compliance with Work Equipment Regulations 5 & 6 1998: We help you comply with specific regulations related to work equipment, ensuring that your pallet racking meets the necessary safety requirements.
Investigation of causes of damage and improved operating methods: Our experienced inspectors thoroughly assess your pallet racking system, identifying any causes of damage. With this knowledge, we can offer valuable insights and recommendations on how to improve your operating methods, minimizing future damage risks.
Identification of essential repairs: Through our detailed inspections, we identify any repairs that need immediate attention. By addressing these issues promptly, you can prevent further damage and ensure the long-term integrity of your pallet racking system.
Reduction of damage and maintenance costs: Regular inspections help mitigate potential damage to your pallet racking. By identifying issues early on, you can take preventive measures and significantly reduce maintenance costs in the future.
Documentation of inspections and maintenance: We provide comprehensive documentation of all our inspections and maintenance activities. This documentation serves as a valuable record of your compliance efforts and can be crucial in demonstrating your commitment to safety during regulatory audits.
2h Storage Solutions SEMA Approved Inspectors
2h Storage Solutions Ltd is proud to offer a comprehensive Rack Safety Inspection service. Your inspection will be completed by one of our team of trained and approved Inspectors.
We now offer national coverage for warehouse pallet racking inspections, with one supplier to inspect your sites all over the UK mainland!
Do you need warehouse pallet racking rack end load notices?
Looking for a cost-effective solution to warehouse safety?
Our racking inspector will also recommend cost-saving and damage-management products and systems to help minimize the damage to your warehouse pallet racking. These recommendations alone could save your business thousands of pounds of warehouse pallet racking damage and repairs.
We will look at areas of high damage and can advise on changes to pallet racking layouts and pallet racking design to keep damage to a minimum. We can help you select the most cost-effective pallet racking protection from pallet racking end barriers, upright protection, corner guards, mesh, or solid partitions.