Warehouse Pallet Racking Design and Installation for Architects and Designers
Warehouse pallet racking design and supply for Architects and designers
Here at 2h Storage we have a long and successful track record of providing design, product specification and installation of warehouse pallet racking and storage solutions to architects, quantity surveyors, building surveyors and other construction cost control professionals.
We can design, supply and install all types of warehouse, office, retail, leisure and health storage equipment from complex carousel and lift storage systems through to shelving and lockers.
Having worked closely with many architects, property and construction professionals we know how to make a project run smoothly for all involved from the contracts administrator to the end client. So whatever your project we can make the storage equipment section of the contract simple, providing quality products at the most competitive costs.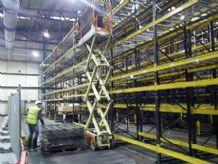 Having worked on prestigious projects in the health sector through to large projects for logistics and manufacturing companies we have the knowledge and experience to provide you with a successful project.
We can supply storage equipment from any of the main manufactures with the independence to provide different products that are the best for you and your clients needs and budgets.
So call our Design team today on 01765 640 160.