Warehouse Survey and Evaluation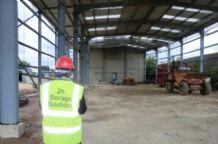 As with any large capital expenditure it is important that you know you have the best solution for your unique business needs and that, that solution offers the best return on investment. With pallet racking, storage equipment, mezzanine floors and other warehouse fit out solutions there are many options and combinations with varying costs and benefits.  This is why you will need to have a warehouse survey and evaluation so our experienced and innovative survey and design team can suggest a variety of tailored bespoke solutions best suited to your facilities work flow and business processes.
The importance of making sure you receive the maximum benefit is of paramount importance to our team. Your warehouse survey and evaluation is our opportunity to provide you with a service and solution that will lead to further referrals and partnerships with in your industry.  So we want to make sure that your design brief is applied to your design so that you get the most cost effective and efficient solution. We look at your product turn around, the volume of product being stored, and how this is integrated into your other operations like production and dispatch.
We will also make sure that you get a safe and workable solution that keeps your team safe on the right side of the appropriate regulations. We work to the highest industry regulations and guidelines making sure that the appropriate statutory regulations are followed, to give you absolute confidence.